This is the era of experiences. Every customer-focused business is designing its product, service, and marketing strategies to craft a unique and personalized experience for its customers. Why is this?  
We, the consumers, have more power in our hands. We can pick and choose what we want, when we want, how we want, and where we want. The days of going to a single point of commerce have long gone by. With great power comes great expectations. The expectation to feel heard, to be understood, and at a minimum to fulfill the goals of making a purchasing decision. 
What transpires in our daily lives leads us to carry the same expectations at work or in our workplaces. It starts when we look for a job opportunity and carries on until we depart from an organization. We call this the hire to retire process or the employee lifecycle.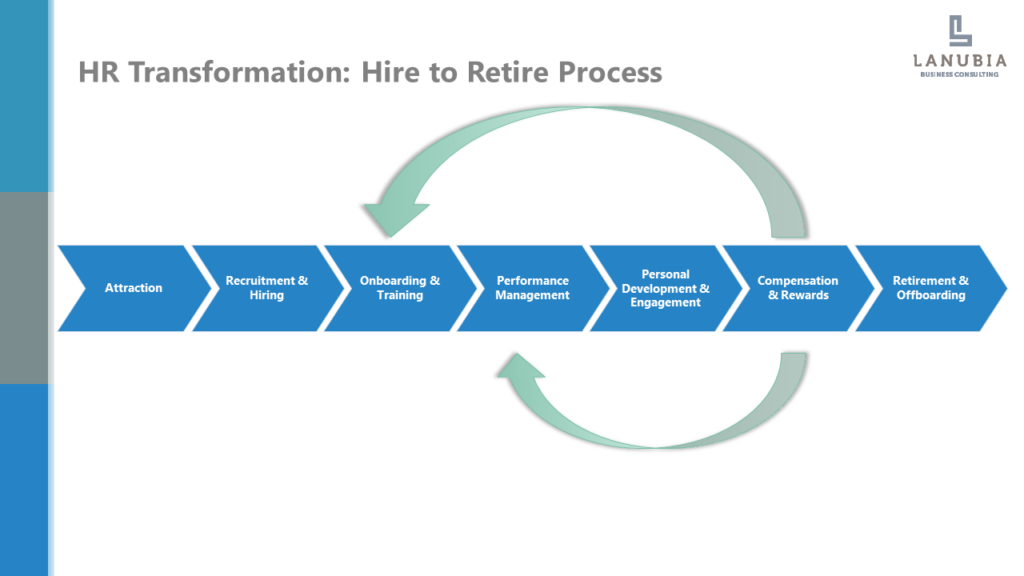 Employee experience is the art of positively elevating the emotions and association of your workforce at each interaction of the employee lifecycle. Modern technology and cutting-edge HR solutions have made it possible to curate the best experience for your workforce. Have you ever considered how much technology and automation do you truly need? In the relentless drive to transform every facet of the business, have human touch and human factor gone out of the equation? The question we want to tackle today is: 
With the adoption of technology in human resource practices, how can you keep the human in human resources? 
To answer this, we will look at each step of the employee lifecycle and share our thoughts on keeping a balance between human and technology: 
1. Attraction
Job seekers have many avenues to connect with their target employers. They can attend networking events, connect on online platforms such as LinkedIn, follow the social media handles of the corporates and so on. Now that you have grabbed their attention, candidates are ready for the next professional challenge. They fully support your mission and vision. They visit your website, browse through the careers page, and pull up a job listing. Lo and behold! It is a dull experience. A wall of text that does a poor job in holding the attention. How can it be done better? 
Consider including interactive media content that explains the role and speaks to candidate's persona. Content that shows mission and vision in action such as employee testimonials goes a long way in engaging the job seeker. 
2. Recruitment & Hiring 
By using a robust applicant tracking system (ATS) coupled with bots that parse the applicant's profile for keywords, this step in the employee journey has become less painful. There is still room for improvement such as not asking the candidates to copy-paste their CVs / resumes, but we will cover those in a separate article. 
ATS is great at what it does but you should not design the first step entirely around it. Many companies and recruiters overlook the importance of a feedback that is not system-generated. Candidates of today expect to interact with the recruiter or the hiring manager. Further, they also expect the feedback to be personalized and it be a coachable moment – what did they do well, how could they improve? This applies to rejected and selected candidates. 
3. Onboarding & Training 
Great news! You have recruited a top talent and it is their first day at job. They report to front desk and are then asked to go through a checklist that sees them going from one building to the another in order to get their security access, laptops, bags, stationery. After completing this process, they find their desk and are forced to sit through mandatory trainings with videos that still have old corporate branding. What's wrong with this picture? 
Everything. By using only technology, the onboarding phase is reduced to a one-way interaction. A Gallup study shows that only 12% of employees believe that their organization does a great onboarding. In a 'moments that matter'interaction, consider assigning a buddy for all new hires. This can be the hiring manager or someone from the team. The purpose is to welcome the new hire and to make them comfortable in a new environment. On the very first day itself, they should get a sense that they truly belong here and can be themselves. 
Next, consider gamification of training. Give new hires tasks and challenges that have them interact with people from their teams and other departments. They can not only get a first-hand experience of day-to-day activities but also of company culture and way of working. 
4. Performance Management 
At times, the role of a line manager in performance management is replaced by a goals / objective setting system. Employees fill in their goals and over the course of the year, those goals are forgotten and / or become redundant.Employee and manager meet once or twice in a year to review performance and the entire ordeal is mechanical. These relics of the past need to be buried. 
Build a culture around on-the-spot feedback and more frequent coaching moments. So, when Jane Doe from sales knocked the presentation out of the park, she needs to be given that feedback as soon as possible. The same applies to when John Doe did not come prepared to a meeting. He should be coached in that moment. 
5. Personal Development & Engagement 
A strong leadership and an open culture of coaching are two main drivers to bring consistent personal growth of employees. Platforms exist to nominate coaches and mentors, sometimes voluntarily, and that is where the role of technology should cease. 
Rather than engaging virtually on a platform, allow coaches / mentors and the mentees to discuss personal challenges and issues on a 1:1 basis. 
6. Compensation & Rewards 
Modern employee portals and self-service apps have brought the pay slips and bonus checks at our fingertips. While the renumeration is a classic testament of employee's motivation and hard work, it can feel isolated from an employee's point of view. 
To take this to the next step, celebrate the achievements of your people and personally congratulate them for their wins. It could be as simple as taking them out for a nice lunch. 
7. Retirement & Offboarding 
Now comes the time when an employee has made the decision to depart from the organization. Technology makes it seamless to disable user accounts, access to emails, network and such. Is that it? 
Even if the employee is leaving, they still can be corporate citizens outside. At this last stage, you can bring home the journey by closing it with a personalized interaction. Consider engaging the HR business partner and the hiring manager during the last working week. The goal of this conversation is to collect employee feedback, reinforce positive emotions, and uncover negative emotions. 
Conclusion  
HR technology has come a long way and is finding applications in many use cases. The employee lifecycle process exists to deliver an engaging employee experience. By balancing technology and human interaction, you can improve the effectiveness of employee experience strategies and ensure that your business continues to achieve outcomes and your people continue to stay engaged.  
If you are facing challenges in crafting the right flavor of employee experience, please reach out to us. Our trusted advisors can guide you to create and deliver the perfect employee experience for your organization.